Announcement #1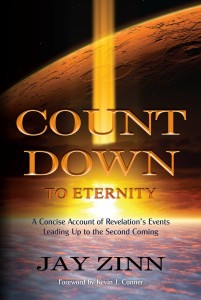 If you ever wanted a make-sense and easy-to-understand explanation of the Book of Revelation, this is it. Bethel Fellowship International highly recommends you get a copy of
COUNTDOWN TO ETERNITY: A Concise Account of Revelation's Events Leading Up To The Second Coming.
Do you have questions about the current U.S. conditions, the Islamic State, Russia's campaign in Crimea and the Ukraine, or the signs of the times in general? Jay Zinn addresses these and more in his new commentary on the Book of Revelation. For those of you who read Zinn's 1997 novel, The Unveiling, this will provide you with the theology behind that book. Well-known to Bethel Fellowship International, Bible scholar and teacher Kevin Conner forewords Zinn's book. In a brief comment about the book Conner says, "I was saved all over again reading some of Jay's frightening pages on the end times!"
Jay Zinn was a student of Dick Benjamin, a protege of Bethel Temple's founder W. H. Offiler. He began his theological education under Benjamin at the Abbott Loop Christian Center in Anchorage, Alaska. He and a team from Abbott Loop were sent out to pioneer-pastor three churches. Zinn is not only a teacher of the Word of God, he is also a recognized artist. Zinn and his wife, Roseanne, reside in North Carolina.
Jay writes, "Dear saints . . . Why should people be afraid of the Book of Revelation when it presents so much hope and promise for the future? It's not just a book about coming judgments, it's a book about the Divine Romance, culminating between Christ and His glorious Bride that will usher in a great harvest of souls through miracles, signs and wonders."
You can order COUNTDOWN TO ETERNITYÂ now at:
https://www.createspace.com/5273376.
Announcement #2
Bethel Fellowship International is happy to announce the BFI Annual Ministerial Conference will be held Friday from 7:00 p.m. and Saturday from 10:00 a.m., May 1 and 2, 2015, at Bethel Chapel in Mountlake Terrace, WA. See information flyer below.
With the theme of "End Times-Current Events: How they are related to the Word of God," BFI is has invited Dr. Jay ZINN to be the keynote speaker in four sessions of teaching. BFI President, Floyd Earlywine said, "I would like to encourage anyone who has ties with old Bethel Temple to make an effort to attend this year's sure-to-be-enlightening conference."
There will be no registration fee for attending the conference, but special offerings will be taken during the conference to help cover transportation and lodging costs for Jay and his wife. BFI offices will need to know if you are attending ahead of time in order to plan for the Saturday afternoon meal. Please let us know your attendance plans by sending a short e-mail with names and contact phone numbers to: bethelfellowship@live.com.